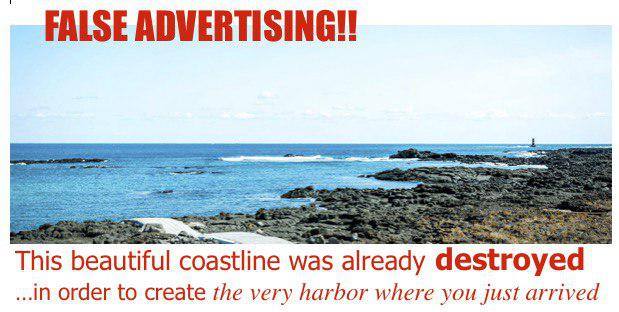 On March 2nd, the 1st official passenger cruise Queen Mary 2 came. Some figures who joined in the welcoming event were: Won Hee-ryong, current Island governor, Heo Chang-ok, vice-chairman of Jeju island Council, and Kang Hee-bong, current President of Gangjeong Village Association (whose navy and capital compromized direction is far distant from former mayors of Kang Dong-kyun and Cho Kyung-cheol). Sadly, Gangjeong village association joined the welcoming event along with naval band. Won, the Island governor stated that giant passenger cruises coming to the Jeju Beauriful Tourism Civilian -Military Complex port (Jeju navy base) adjacent to the UNESCO sea would bring increment to the local residents' income.
About 1,000 out of 2,400 passengers boarded onto 53 tourist buses which headed to Seongan, Seogwipo downtown, West island etc.
Peace activists put their signs and handed over leaflets to the cruise passengers in the cruise terminal. In the leaflet, we raised them a fundemental question: "Jeju's heart is aching due to overtourism and militarism -What if it is your hometown?" Gladly many tourists showed concern with our leaflets. Some of them would even say, "Same, our town, also." "I oppose militarism and war, too."
The question is: How we make crack on the crazy flow of militraism combied with tourism. The question is not only about a military base but also a military base closey related to tourism under the name of civilian-military complex harbor. In this way, the oligarchies combine patriotic fervor with economic fatansy, misleading people and justifying militarism and developmentalism at the same time altogether. And I believe it is not only anout Gangjeong..
What if it is your hometown?
Below photos by Lee Ki cheol