We so thank for all the international solidarity messages for 2013 Grand March for the Life and Peace of Gangjeong and Gureombi Human Chain. Though late, here are collected international solidarity messages. We especially express our gratitude to the international peace activists who have been unjustly denied entries to Korea for their support for our struggle opposing the building of the Jeju naval base but sent warm and strong messages of support.  Some of them such as Nagaya Yukiko collected her friends' messages as well with Korean translations. We also thank translators, Jo Yak Gol and Park Youn-Ae,  Park Jin-Hwan for kindly helping or volunteering translations. We also thank friends such as Amy Woolam Echevera who gathered  signs for us from the friends all over the world.  And friends in the UK and Australia for having solidarity actions for us. If there are any missed messages here though you have sent us, please let us know (gangjeongintl@gmail.com) . Thank again for all your warm friendship and support.
Kitty Axelson-Berry (USA)
Your sea is our sea, your soil is our soil, your protest is our protest, and may we always remember that and real-ize that. All of my best wishes for a world at peace, with the security that only peace can provide.
With love,
Amherst, Massachusetts
U.S.A.
–> Click the link for the Korean translation 
BAYAN (BAGONG ALYANSANG MAKABAYAN) (Philippines)
In militant unity with the valiant people of Jeju Island, the Bagong Alyansang Makabayan ( New Patriotic Alliance ) in the Philippines joins them in their struggle to stop the construction of the US Naval Base in said island, a World Heritage site.
Bayan earnestly wishes for the peace march of July 29 to Aug. 03 and the human chain on August 04 between the east and west side of the naval base construction to be successfully carried out by the people of Jeju Island and the local and international groups.
Bayan condemns the trampling by US imperialism and its puppet, the ROK government of President Park Geun-hye, of  the strong desire of the people of Jeju Island for peace not only in their island, but also in the Korean peninsula and Asia.
Stop the Construction of the US Naval Base! Release All Prisoners Opposed to the Construction of the Naval Base! Fight for Peace in the Korean Peninsula and the Asia Region! US Out of Jeju Island, Korea, and the Rest of Asia! Long Live International Solidarity! The People United, Will Never be Defeated!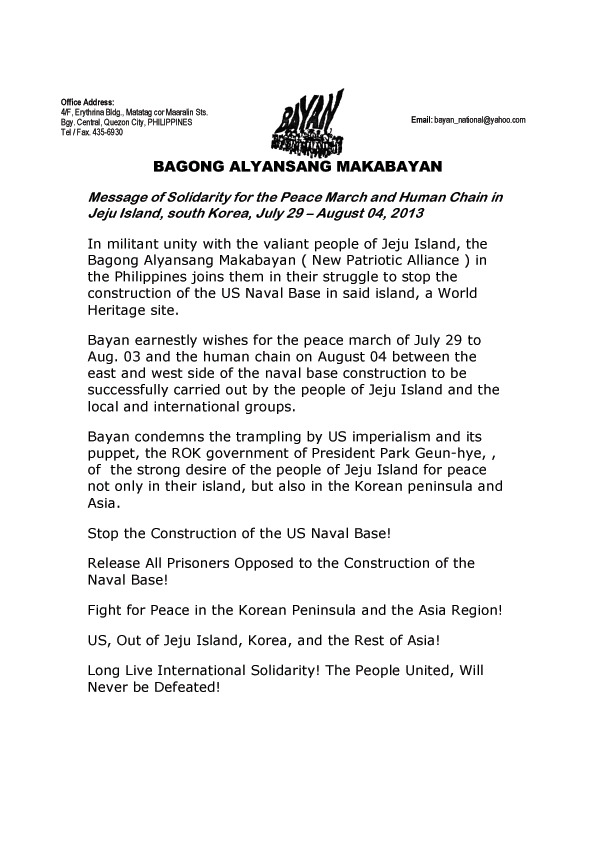 –> Click the link for the Korean translation and more resource
Jacqui Deveneau(USA)
I am writing to you from the National Green Party's Annual Gathering here in the US. Last night I showed the film The Ghosts of Jeju to some of the people and they were very moved. I know I speak for the Green Party members that I know all over the US and the Green Party Peace Network that I started with another Green, we are behind your struggle and are so saddened and angered by both what has and is now going on in Jeju. We send our thoughts, prayers, strength and love to you all in your continued struggle and will continue to show and pass on this wonderful film that Regis Trembly did from his visit in Jeju. You are in our hearts and souls. Stay strong and safe. Love, jacqui [Maine].
–> Click the link for the Korean translation 
Bernard De Witte (Belgium)
Hi you all, It's a long distance, I live in a far away country. Moreover I am no longer able to participate in a walk. But my heart, my spirit is with you. I hope you stlll can hold on against all odds – there's a chance peace will come – if many of us all over the world keep struggling to obtain it. Peaceful greetings Bernard De Witte, Belgium
–> Click the link for the Korean translation 
Denis Doherty and Radhika Raju (Australia) 
We the people gathered in Sydney, Australia for the Hiroshima Day Rally on Aug 4. 2013 condemn the Government of the Republic of Korea for building the Korea-US naval base on Jeju the island of peace.   This new base will further threaten the peace of the Northern Pacific area. The construction of the base is an act of environmental and cultural vandalism. We support the struggle of the people of Jeju to protect their island. We stand with you today Aug 4, 2013 as you join hands to encircle the construction site.   We wish you every success. Hope all went well!   Peace From Sydney   Denis Doherty and Radhika Raju
Hello friends of Jeju Island, we are having a march and rally on 4 August 2013 and will be speaking about the issues you ate facing in Jeju Island! in solidarity – The Hiroshima Day Council Sydney.
–> Click the Korean translation link    
Kristin Douglas (Hawai'i)
Amy Woolam Echeverria   Dear Friends,
My name is Amy Woolam Echeverria and I am a colleague of Columban Fr. Pat Cunningham.  For quite some time we have been following the situation in Jeju through Pat's updates which have informed our advocacy efforts for peace here in the U.S.  We hope you receive the attached international letter of solidarity in time for your events on August 4.
Please know of our ongoing concern and work to accompany you in your struggle for peace.
If we can be of support in any way, please let us know.
In peace and solidarity,
Amy Woolam Echeverria
Amy Woolam Echeverria
International Justice, Peace, and Integrity of Creation Coordinator
Missionary Society of St. Columban
USA
………………………………………
International Letter of Solidarity to the People of Jeju Island
August 4th, 2013
To The People of Jeju Island,
We, the undersigned faith-based, peace, environmental, and other civil society members and organizations, are concerned for you, our brothers and sisters, as the proposed military base on Jeju Island continues to threaten the lives and environment of your people. We offer solidarity as you fight for the right to protect the village of Gangjeong from expanded militarization.   We recognize the fragileness of the Earth, and particularly the unique habitat on Jeju Island. As a United Nations World Heritage Site, Jeju Island is known for its unique marine life and biodiversity. We worry that increased militarization in the region will result in oil and waste contamination to the surrounding waters and land. We know the construction will destroy the coral reef habitat in the area that many species depend on. We will advocate for the protection of this precious ecosystem. We feel pain for your families because we know that the gifts of water, air, and soil that sustain many lives and are critical to Jeju Island culture may be destroyed as a result of the base construction and the military operations that will follow.   We extend our hearts for the lives lost in the 1948 massacre on Jeju Island and will not stand to see a military harm its own people a second time. We take to heart the words of Bishop Kang Woo Il of the Jeju Island Diocese, "A military base on this island – with all of the latest weapons collected in one place, including the Aegis and aircraft carriers, creating a great concentration of military power – it simply does not make sense to be on Jeju Island … We also see this as a peace issue for the whole nation, and not even just our country, but also an issue for China, Japan and Korea – countries that have not yet been able to overcome the conflicts between them … We believe that this is not healthy for the peace of Korea, for Northeast Asia, and for the whole world."   The 60th anniversary of the armistice reminds us that we are called as humanity to be peacemakers and protect the way of life and environment of those affected by expanded militarization and long-standing international dispute. We know from past experience that the arrival of military personnel may harm women and the overall public health of those residing in your community. Utilized by South Korean and potentially the United States militaries, this base will pose a threat to the current security of the Gangjeong Village and the entirety of Jeju Island. We stand with you, planting our feet firmly, in hopes of halting the transformation of your beautiful home and environment into an international military target.   Please be assured that we will continue standing in solidarity with you in your struggle to maintain your way of life, livelihoods, and fragile island ecosystem in the face of the harmful effects of militarization.
International Letter of Solidarity to the People of Jeju Island
Name/ Organization/ State,Province/Country
-Amy Echeverria Columban missionaries, Maryland. USA -Christine Hong, National Campaign to End the Korean War, CA USA -JT Takagi Third World Newsreel, NY USA _Monica Kim University at Albany, SUNY New York, USA _Dorothy Ogle, National Campaign to End the Korean War,  Colorado USA _George Ogle, National Campaign to End the Korean War Colorado USA _Joe Ring CA USA _Koohan Paik International Forum on Globalization California USA _Ramsay Liem Boston College MA USA _Khanh Pham Viet Unity _Daniel Kim New York.United States of America _Haeyoung Kim University of Chicago IL United States _Elaine H. Kim Asian American Studies UC Berkeley California USA _Sarah Park SOOBAK California United States _Sooyoung New York USA _Namhee Lee, ASCK (Alliance of Scholars Concered about Korea), CA USA _Juyeon Rhee, Nodutdol for Korean Community Development New Jersey U.S.A _김수복 6.15 공동선언실천해외위 뉴욕 NJ 미국 _Ki Yom Sun-Yoga New York United States _M.Brinton Lykes Center for Human Rights & Intl Justice, _Boston College MA USA _Catherine M Mooney MA United States _Nan Kim, Alliance of Scholars Concerned about Korea (ASCK) Wisconsin US _Jodi Kim CA USA _Jinsoo An UC Berkeley CA USA _Byung C Kang, All saint Episcopal Church In Great NECK, NY New York USA _Terry K. Park CA USA _Deanna Wolf Columban Center for Advocacy and Outreach MD USA _Jennifer Kim Chicago, IL USA _Mike Dodd Columban Fathers NE USA _Gerald Wilmsen Columbans Wisconsin USA _Victoria Compton Office for the Missions, Diocese of Springfield in IL Illinois USA _Will Donahue, Columban Center for Advocacy and Outreach IL USA _Maria Torres TX Estados Unidos _Tracy M Oberle, Columban Fathers-Columban Center  for Advocacy and Outreach MICHIGAN United States _Kristie B Vollentine Pontifical Mission Societies LA USA _Father 'Rick LaBrecque Catholic Diocese of Charleston South Carolina USA _Alice Sather MN USA _Connor Duffy Pennsylvania United States _Martin Witchger, Washington, D.C. United States _Charles Haddox Texas United States _Kadey Wright Tx United States _John Nuelle, United States Catholic Mission _Association Washington DC USA _Jan Gregorcich School sisters of Notre Dame Wisconsin USA _Rev. Robert E. Mosher Columban Fathers Texas USA _Charles Rue Columban Mission NSW Australia _Ray SCANLON Columbans Victoria Australia _Albert Utzig St. Mary's Catholic Church California USA _Frank Carroll Columban Fathers MA USA _Brother Jim Moore Conventual Franciscan Friars Maryland USA _Deacon Greg Kovalesky St. Paul Catholic Church Tampa, Florida USA _nelson belizario st simon stock parish _kevin cawley Cawley Family NY United States _Serafina Vuda Columban Fathers California United States _Eli McCarthy Conference of Major Superiors of Men MD USA _Pat Cunningham Columban JPIC Korea Seoul Korea _Elizabeth Nye, Columban Center for Advocacy and Outreach, Washington, D.C. United States _Teresa Vyhanek Minnesota USA _John Kerr Province of the Immaculate Conception Pennsylvania U.S. _Thomas Kim KPI CA _Mary Ellen Dowling New York USA _thomas glennon Nebraska united states _John Converset JPIC Office, Comboni Missionaries NJ USA _Fr Peter O'Neill Missionary Society of St Columban Hsinchu City Taiwan _Ronald Miranda Illinois USA _Ronald Miranda Illinois USA _youngho jeju korea _Linda Dimmock Alabama USA _Rick V Elefano St. Gerard Family Life Center Philippines _William Schmitt Columban Fathers Nebraska U.S.A. _Provincial Council of the Clerics of St. Viator Illinois United States _Br. Michael Gosch Clerics of St. Viator (Viatorians) IL US _Ann Scholz Maryland USA _Richard Steinhilber Columban Fathers Nebraska USA _Fr. Chuck Lintz Columban Mission Society Rhode Island U.S.A. _Gerry G Lee Maryknoll Office for Global Concerns DC USA _Luke Patterson New York United States _thomas glennon Nebraska usa _Ellen Teague Columban JPIC UK London England _Charles Haddox Texas United States _Katie Michigan United States _William J. Morton, SSC Columban Border Ministries Texas USA _ Sainiana Tamatawale Columban Lay Missionary Suva FIji Islands _Chloe Schwabe, Columban Center for Advocacy and Outreach District of  Columbia USA  
–> Click the link for Korean translation and all 5 page letter copies ( Korean translation by Jo Yak Gol)
Josh Fisher(USA)
I lived on Jeju-do for two years and fell in love with the island. To learn that the fight for the sanctity of Jeju-do is still ongoing is distressing. Here in Chicago, I am thousands of miles away from the picket lines I'd rather be standing on. In order to do my part, I've decided to rerelease the original performance of Build Your Base. This was performed in the Gangjeong Village Hall on June 26, 2010.
 Chicago, IL, United States
http://www.appoet.org/2013/07/11/no-naval-base-on-jeju-do/
–> Click the link for Korean translation 
Catherine Fontanazza
I stand with in you in spirit. I am unable to be with you but my prayers are with you!
God bless you.
Peace,
Catherine Fontanazza
 –> Click the link for Korean translation 
Friends of Gangjeong in the city of Birmingham, United Kingdom (UK)
1. Friends of Gangjeong in the city of Birmingham, United Kingdom are organising a human chain and picnic on Sunday 4 August. Here is the leaflet (to be double sided) we will be giving to the public. (Andrew, UK)
2. To the beautiful people of Gangjeong, your struggle for peace is endlessly inspiring. It's a joy to see daily photos from the Grand March for Peace. Here in the UK there will be a human chain event for Gangjeong in the city of Birmingham on Sunday 4th.  (Andrew, UK)
–> Click the link for Korean translation and more photos
Bruce K. Gagnon
Dear Friends,
I write this message of solidarity from Darwin, Australia where local activists are beginning to expand their efforts to protest the US deployment of 2,500 Marines as part of Obama's "pivot" into the region.
Before I came here I was in the Philippines and visited the former US Navy base at Subic Bay.  I learned that about 5 US warships each week are coming back into that port.
My thoughts are with Gangjeong village as you prepare to begin the peace march and human chain.  I send you my heartfelt greetings and wish I could be there with you.
Please know that your story of peace, love, and respect for nature is spreading around the world.  You are not alone.
Blessing to you all.  We join hands with you.
In peace,
Bruce K. Gagnon
Coordinator Global Network Against Weapons & Nuclear Power in Space Brunswick, ME
United States
–> Click the link for Korean translation and some photos
Sherrin Hibbard(Australia)
'In 2010 i swam around Jeju to raise environmental awareness. Seeing Jeju from the sea makes you realise how much habitat destruction and inappropriate deelopment has already occurred. Sadly, the only clean water i swam through in ALL OF JEJU was at Gangjeong. It breaks my heart to see this development continue. I wish i could be with you all on Jeju to join the walk and hold hands in solidarity and support. Thank you for not giving up.
SHERRIN HIBBARD
Jeju Big Swim (now in Australia)'
–> Check the Korean translation and photos here. 
Sakota Hidefumi (Japan)
A solidarity message from Sakota Hidefumi(46) who was denied entry to Korea on Aug 26, 2011, with his 6-year-old son and Yamaguchi Yukiko(56), a AWC organizer in Kansai region. Mr. Sakota Hidefumi is a peace activist and Korean language translator from Japan. 
江汀の住民の皆さん。平和活動家の皆さん。私は皆さんの闘いを支持します。そして韓国政府の海軍基地建設に反対します。皆さんの闘いは正義です。サムスンの工事と警察の弾圧は不正義です。不当逮捕された人全員の即時釈放と海外活動家への入国拒否解除を求めます。迫田英文(日本)
Dear, Gangjeong villagers and peace activists. I support your struggle. And I oppose the construction of the Jeju naval base by Korean government. Your struggle is justice. Samsung's comstruction and Police crackdown is  injustice. I demand immediate release of wrongfully imprisoned people, and Korean government must lift the entry ban on foreign activists.
-> Click the link for his original Korean and  photos (English translation by Jo Yak Gol)
Ikeda Takane (AWC-Japan)
カンジョンでの闘いに思いを馳せ、連帯のメッセージを送ります。韓国政府による不当な入国妨害によって、皆さんの創意溢れる活動に直接に参加できないことが残念です。しかし、そのような状況のなかでも、済州海軍基地建設反対の声を国際的に広げていくために私たちにできることは多くあると確信しています。軍隊や基地の抑圧からすべての民衆が解放される日に向けて共に闘い続けましょう。あなた方の闘いは私たちの闘いです。
池田高巌(AWC、日本) 2012.1.26強制送還
I am sending my solidarity message to you with Gangjeong struggle in my mind. I am so regretful that I cannot participate in your creative actions due to Korean government's unjust entry ban. However, I believe that we can do a lot of things to spread Gangjeong voice against Jeju naval base into the world. Let's continue to fight for our freedom and all people's liberation from the oppression of military base. Your struggle is our struggle.
Name: Ikeda Takane (AWC-Japan) Denied entry to Korea and sent back to Japan on Jan 26, 2012.
–>  Check the Korean translation here( Forwarded with Korean translation by Nagaya Yukiko, English translation by Jo Yak Gol)
Kalikasan People's Network for the Environment
This is Leon from the environmental network Kalikasan PNE in the Philippines. [I was at the] International Conference on US Strategic Pivot to Asia-Pacific Militarism, Intervention and War in Manila last July.
Hope we're not too late to send you our solidarity statement in time for the human chain. Wishing you a successful action and we're looking forward to working with you on the bases campaign! Leon Dulce National Campaign Coordinator Kalikasan-People's Network for the Environment http://www.kalikasan.org http://kathangkatotohanan.wordpress.com ……………………………………………………………….
Kalikasan People's Network for the Environment "The Struggle for the People is the Struggle for the Environment."   National Secretariat Office 26 Matulungin St. Central District, Diliman, Quezon City, Philippines (02) 924 8756 | kalikasan.pne@gmail.com | www.kalikasan.net
Defend land, culture and the environment from the scourge of US troops and bases!
Statement of Solidarity to the Gureombi Human Chain
by the Kalikasan People's Network for the Environment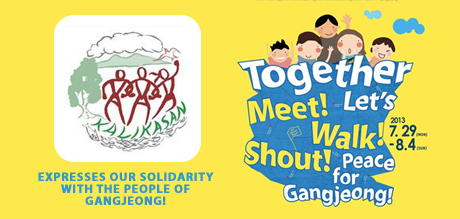 04 August 2013
We, the Kalikasan People's Network for the Environment, join in spirit and in solidarity the Gureombi Human Chain organized today by the people of Gangjeong Village in Jeju Province to protest the construction of a United States-Korean naval base on Jeju Island, a UNESCO World Heritage Site known for its lava tube systems and other volcanic island features, majestic waterfalls and mountain streams, lush marine ecosystems, unique culture and historical significance. Beyond this, Jeju is also known as the Island of World Peace, as designated by then President Roh Moo-Hyun in 2006 as an apology for the massacre, rape, torture and other war crimes inflicted upon the people of Jeju during the height of Cold War in the Korean Peninsula. The island's harrowing experiences were a reminder of the hysteria and paranoia whipped up by the US and its South Korean lackeys before and during the Korean War – memories that are already being relived by the people of Jeju who are being battered and imprisoned by Korean military and police as construction of the base continues at a steady pace. The naval base project is clearly part and parcel of the plans of the US military forces' pivot away from Iraq and Afghanistan towards Asia, with plans of repositioning 60 percent of all US naval forces to the Asia-Pacific by 2020. After all, It is an ideal deterrent by the US to the growing economic and geopolitical dominance of China, giving US military forces a staging area only 490 kilometers away from Shanghai and 940 kilometers from Beijing. Under the same pretenses of maintaining peace and order in the region, Filipinos have experienced the same military interventionism being displayed by the US in Jeju Island. Last October 2012, a tanker serving under a US Navy service contractor dumped over four million liters of hazardous domestic waste and toxic bilge water in Subic Bay, a former US base but also an important marine ecosystem and tourism area in our country. As if not content with causing damage to just one natural wonder of the world, the US Navy's minesweeper USS Guardian ran aground PH's Tubbataha Reef Natural Park, a coral expanse in the very heart of the globally critical and biodiversity-rich Coral Triangle area in the Pacific Ocean, destroying 2,345 square meters of 10 meter-deep coral reefs. The US has, to date, payed no compensation for social and environmental justice in these environmental crimes. We remember the effects of the toxic pollution left by US military forces in the Subic Naval Base and Clark Air Base years after they were discontinued in 1991: More than thousand people have died and many more were affected, mostly women and children, because of illnesses and diseases caused by the US toxic contamination. Today, the US-Aquino regime in the Philippines wants to reopen the Subic Base and providing US troops full access to all port facilities in the Philippines. Likewise, no compensation has been given to the victims and no cleanup and rehabilitation has been conducted to date by the US government. US imperialism and militarism will continue to take no heed of the 'collateral damages' it is causing to the environment and the people to achieve economic and territorial dominance in the Asia-Pacific region – and this holds true from the Island of Vieques in Puerto Rico to the Island of Okinawa in Japan and back to our own shores. The US Pivot to the Asia-Pacific only promises more. We say: no more! We look forward to working with the Gangjeong Village campaign, together with the global anti-imperialist movement in building a bigger and more sustainable people's solidarity in defending land, culture and the environment from the scourge of US troops and bases. Let the conclusion of the 2013 Gangjeong Grand March for Life and Peace be the spark of a qualitative leap in the heightening of people's struggles against US Imperialism, in all fronts and across all borders! Resist the growing ecological threats presented by US military forces in our lands and seas! US bases, troops and military exercises, out of the Asia-Pacific now! The people united will never be defeated! Long live international solidarity!   (Source)  
–> Click the link for Korean translation (Korean translation by Park Youn-Ae)
Tarak Kauff (USA)
Tark Kauff was  forcefully and violently denied entry along with Eliot Adams and Mike Hastie on March 14, 2012. For more info on it, click here. Despite such ordeal, here is his warm message. 
Solidarity for the Gangjeong Peach March from Veterans for Peace. Many of us here in the states have been incredibly inspired and moved by the intensity, courage and long unceasing commitment of your struggle to resist U.S. and South Korean militarism at the expense of your island and people. You set an example of sacrifice for many of us. I was turned away from Jeju Island once, if I can I will try again as soon as possible. I want to learn from you all and stand in real solidarity with you all. I feel like you are family that I need to see. All power to you in the struggle. In the meantime I am sending a t-shirt and a hat and maybe something else if I can get it together.
Peace, justice and love,
Tarak
Veterans For Peace
"Treat the earth well: it was not given to you by your parents, it was loaned to you by your children. We do not inherit the Earth from our ancestors, we borrow it from our children." 
The Korea Policy Institute
Dear Gangjeong villagers,
The Korea Policy Institute sends our deepest gratitude for your incredibly courageous and persistent efforts to resist the further militarization of your village and Jeju Island. For years now, across the pacific ocean, we have been watching and learning about your struggle. Whether on Facebook  or hearing directly from Gangjeong villagers such as Jeong Young-hee or Mayor Kang Dong-kyun, or traveling ourselves to Gangjeong, we have been moved and encouraged by what you have created and continue to build in your resistance.
This year marks the 60th anniversary of the signing of the Armistice Agreement. We know that an unended Korean War due to the absence of a permanent peace treaty is what justifies the further militarization of the Korean peninsula, and as a consequence Jeju Island. Your struggle to halt this militarization, to protect your 400-year old village, Gureombi, and the natural beauty which makes Jeju Island paradise island, is truly valiant.
We are inspired by your unwillingness to accept injustice, despite the daily brutal violence you endure, including imprisonment and heavy fines. Your fearlessness in the face of all of this is a true testament to the selfless human spirit that is willing to sacrifice for justice, to protect the environment, and preserve the precious resources we have today for future generations.
Please know we are with you and will continue to write and spread the word about your struggle. You are not alone. We are with you every step of the way.
In peace, friendship and solidarity,
The Korea Policy Institute
 –> Click the link for Korean translation
Renie Wong Lindley (Hawai'i )
Aloha to Gangjeong Aug. 4, 2013
I feel honored to have come to know you, peace activists of Gangjeong, because you have shown me so much–about the hope and dream for a peaceful world and about your unwavering courage and passion to keep working to make it happen.  You are the ones whose words of peace have wings to fly all over the world!  Your struggle is our struggle.  We must stop the insanity of war!  Keep Jeju the Island of Peace!
In Solidarity,
violin
–> Click the link for Korean translation and more resource
Natasha Mayers (USA)
Greetings to you brave people in your struggle to save Gangjeong. Thank you for your courage and tireless efforts to protect the environment and your traditions. You are an inspiration to the whole world.
You have inspired me to devote much of my life to making banners here in Maine for groups fighting for peace and justice, the environment, and other causes I want to support,
I would return to struggle with you, but know that I would not be allowed into your country again.
I am attaching some images that I made that you might like to use.
Fondly,
Natasha Mayers Whitefield, Maine

–>  Check for the Korean translation and more images here
Minami Mamoru (Japan)
昨年の夏、台風直後のクロンビを訪問しました。だからわたくしはそれよりも前に訪問した仲間たちの語った見事なクロンビの姿を知りません。それでも案内いただいた方たちから伺った平和な頃のクロンビの光景、子供のころからの遊び場だったこと、アジの一荷釣り…。人も自然も平和だったころを取り戻しましょう。日本から連帯の思いを寄せます。私はあなたたちとともにあります。
居住地域 日本国京都府
名前 南 守
Last summer, I visited Gureombi rock right after a typhoon hit. So I couldn't see the real, exquisite Gureombi that other people told me about. But, Gangjeong villagers explained to me how peaceful the rock was before the construction, how fun it was for kids to play at, and how rich and fertile the sea was. Fishing was so easy… Let's take back the peaceful days. For that, I am sending my solidarity heart from Japan. I will be with you. Location: Kyoto, Japan Name: Minami Mamoru
–>  Check the Korean translation here( Forwarded with Korean translation by Nagaya Yukiko, English translation by Jo Yak Gol)
Benjamin Monnet (France)
With you in spirit A picture of solidarity for the Peace March. A message of harmony between mineral, vegetal and animal, are humans catching it?
Gangjeong villagers,
Walk, Walk,
My dear Friends,
Be Brave,
Gangjeong villagers,
Be fearless,
Connection with Gureombi must remain alive.
With the truth on its back,
Carrying justice for Gangjeong,
May this whale travel for long,
Until the advent of loving kindness.
Someday they'll have to accept,
that our struggle is right and just.
Simply, they'll have to face,
With wide open senses.
While my heart is at your side,
Often my tears flow in front of your devotion.
I pray for you.
I feel you.
I miss you.
I am with you.
I love you.
Benjari
–> Click the link for Korean translation
Nagaya Yukiko  and other AWC Japan activists including those who were denied entry
Nagaya Yukiko (Yamaguchi Yukiko) from the Japan AWC was unlawfully denied entry to Korea on Aug 26, 2011 along with Sakota Hidefumi and Sakota's son. They were translators and were stuck and illegally held at the airport for 3 days and deported back to Japan on Aug 28. They tried to use their rights to file a formal objection, but the Korean Immigration told lies, saying there is no such a process in Korea. You can read the full report of the case in here.  Afterwards, Nagaya Yukiko started protest in front of the Korean embassy in Osaka and other places on every Wednesday. She has strongly protested Korean government's unlawful denial of her entry and Jeju naval base construction. We thank Nagaya Yukiko for her continuous efforts to put solidarity messages together and translate them into Korean language.  
済州島を一周してカンジョンに到着された皆さんに熱い連帯の心を送ります。
私は2年前に見た、川と海が出会うカンジョンの雄大な自然が忘れられません。クロンビは温かい岩だといいます。大人たちが抗議集会をするあいだクロンビの上を走り回り、遊び疲れてクロンビの上で眠り込んでいた子どもたちの姿も忘れられません。
生活の場であるクロンビと海の破壊を食い止めようと、何度も逮捕され、長期に投獄されながら闘っている住民と支援者の皆さんに心から尊敬と連帯の気持ちを送ります。韓国政府が弾圧を乱発するのは、恐れているからです。大切な故郷を破壊して作られようとする海軍基地の真の目的が何であるかをカンジョン住民たちが見抜き告発しているからです。私たちは怖いものは何一つありません。だからこうして海を越えて連帯をしています。いくら妨害されても私たちはひたすらに連帯を押し広げていきましょう。
連帯の力で、アジアから米軍基地を撤収し、韓・米・日軍事体制を終わらせましょう!
居住地:日本国 京都
名前;永谷ゆき子(山口由紀子)
I am sending my solidarity message to all the comrades who walked around the Jeju island and arrived Gangjeong village. I cannot forget the grand nature where river and sea meets in Gangjeong that I saw two years ago. I heard that Gureombi is a warm rock. I also cannot forget the scene where children played games, becamed tired and fell asleep on the rock while grown-ups were holding protest gathering. I want to send my utmost respect and solidarity heart to Gangjeong villagers and peace activists who have repetedly been arrested and imprisoned for such a long time to defend their life ground, Gureombi rock and the sea. Korean government is opressing and destroying because it is afraid. So that's why we have to strengthen and broaden our solidarity in spite of any interference. And with the power of solidarity, we will kick out US military bases from Asia and put an end to the Korean-US-Japan military ruling system! Location: Kyoto, Japan Name: Nagaya Yukiko (Yamaguchi Yukiko) (denied entry on Aug 26, 2011)
–> Check  the original Japanese, Korean translations and mores resource here (Korean translation by Nagaya Yukiko and English translation by Jo Yak Gol)
Nakamura Sukae (Japan)
私は一昨年の夏、娘とともに海軍基地の建設現場を訪れ、そこに立つだけでパワーを与えられ、海の幸をもたらし、様々な生き物の命を育むクロムビの海の偉大さを目の当たりにしました。この海に人間にとって何もプラスにならない戦争のための基地を作るなどとんでもないと実感しました。(もちろん、どこにも戦争のための基地は必要ありませんが。)そして、クロムビの海を取り戻そうと水際で体を張って戦っておられる住民の方々に連帯の思いと激励の気持ちを伝えて日本に帰りました。毎日が戦いの住民の方々に対して、それぐらいしかできない一日本人の非力をくやみましたが、少しでもと、カンジョンのことを日本の友人たちに伝えました。
 しかし、韓国政府は、こんな小さな存在の―日本人の親子を入国を拒否しました。カンジョンの海軍基地に反対しているからという理由で。カンジョンを訪れて半年後、再び大好きな韓国を訪れた私たち親子を、強制送還しました。こんな不条理な仕打をしてまで作る海軍基地はどんな만들어지는 해군기지가 어떤 역할을 하는 건지 주민 분들이 잘 알고 고발하는 것을 두려워하는 겁니다. 저희는 두려운 게 하나도 없으니까 이렇게 바다 건너 연대하고 있습니다未来に必要だというのでしょう。まったく必要ありません。
 私は、この仕打から逆に、私たち一人一人の存在がどんなに大きなものであるのかを学び、一人一人が声を発し、一人一人が戦いの鎖の一つとなることの重みを教えられました。
 クロムビの海を守る人間の鎖に日本から私たちの思いもつながります。勝利の日まで共にがんばりましょう。 中村清恵
 I visited the naval base construction site with my daughter in summer two years ago. I felt empowered just standing on it. I witnessed with my eyes the greatness of Gureombi rock and the sea that give us rich products, raise diverse life. I realized that building a war base that gives no good for human race, on such an abundant sea, was an absolutely absurd thing. (we don't need war base in anywhere else, for sure) I came back to Japan before I delievered my solidarity heart and encouragement to the villagers who have vowed to recover the Gureombi rkac and the sea, while putting their life in line. As a Japanese, I felt powerless because I couldn't do much when the Gangjeong people were fighting everyday. However, I decided to help as much I as could, so after I came back to Japan, I told the stories of Gangjeong village to my friends. To my surprise, Korean government did not allow this tiny little mother and daughter to its country. Just because we oppose the Gangjeong naval base project. We wanted to visit again Korea that we liked after 6 months we visited Gangjeong village. But it deported us. Do we actually need a naval base being constructed in this unjust ways for our future? No, absolutelu not. In my deportation, I learned how important existence each and every one of us is. Each person can raise voice and become a link that connects the strong stryggle chain. I want to send our hearts to the human's wall that will defend Gureombi rock and the sea. Let's keep up the struggle until we win. Location: Nothern Kyushu, Japan Name: Nakamura Sukae (denied entry on Mar 27, 2012)
–> Check  the original Japanese, Korean translations and mores resource here (Korean translation by Nagaya Yukiko and English translation by Jo Yak Gol)
Ouchi Teruo (AWC-Japan)
「クロムビ包囲人間の鎖」に心からの連帯の意を示します。 基地を押し付けようとするものたちが、いくら入国拒否をおこなおうとも、 私たちと韓国、チェジュの人々の連帯を断ち切ることなどできません。 私たちは、いつも、皆さんにたたかいと共にあります。 子どもたちが、女性が、そしてそこに暮らす人々が、 基地や軍隊に脅かされることのないアジアをつくりあげましょう! アジア共同行動日本連絡会議 大内照雄
I want to share my solidarity heart with human's wall around Gureombi. Even though military base builders and law enforcers keep us from entering your country, how can they stop our solidarity with Jeju people, Korean people? We will always be together with you in the struggle. Let's build Asia free from military threat so that women and children can live safe!   Organization: AWC-Japan Name: Ouchi Teruo (denied entry on Jun 29, 2012)
–>  Check the Korean translation here( Forwarded with Korean translation by Nagaya Yukiko, English translation by Jo Yak Gol)
Makiko Sato (Japan)
Dear friends in Gangjeong who are against the naval vase construction,
Your daily struggels, along with those on Henoko Beach and  in Takae village, Okinawa,
 have been the lighthouse of the conscience and the wish for peace commonly shared
by the majority of citizens worldwide.
Japan is soon at the crossroad of whether or not to overhaul its Constitution
, in order for our politicians to have it tailored to what they call  ' public good.'
But you all in Gangjeong rightly know the true public good is peace,
not possessing the ability nor facilities for war.
Especially as a local resident in a neighboring country,
I thank you for your tenacious efforts in peace and for peace.
M. Sato, Japan
–>  Check the Korean translation here
  Tamura Megumi (Japan)
分断されることではなく、アジアの人々が連帯することによる平和を求めます。クロムビ包囲・人間の鎖に連帯の意を示します。
日本・愛媛  田村恵
I want peace with people in Asia together in solidarity, not divided. I want to express my solidarity to human's wall around Gureombi rock. Location: Ehime Prefecture, Japan Name: Tamura Megumi
–>  Check the Korean translation here( Forwarded with Korean translation by Nagaya Yukiko, English translation by Jo Yak Gol)
Regis Tremblay
To visit Gangjeong is to know and to love Gangjeong and her people. With each passing day, more people around the world stand in solidarity with you. Your spirit and energy is infectious in spite of seemingly insurmountable odds. Your struggle is our struggle as we rise up against the crimes against humanity and the natural world! War, capitalism, militarism, and imperialism must be replaced with peace and justice for all.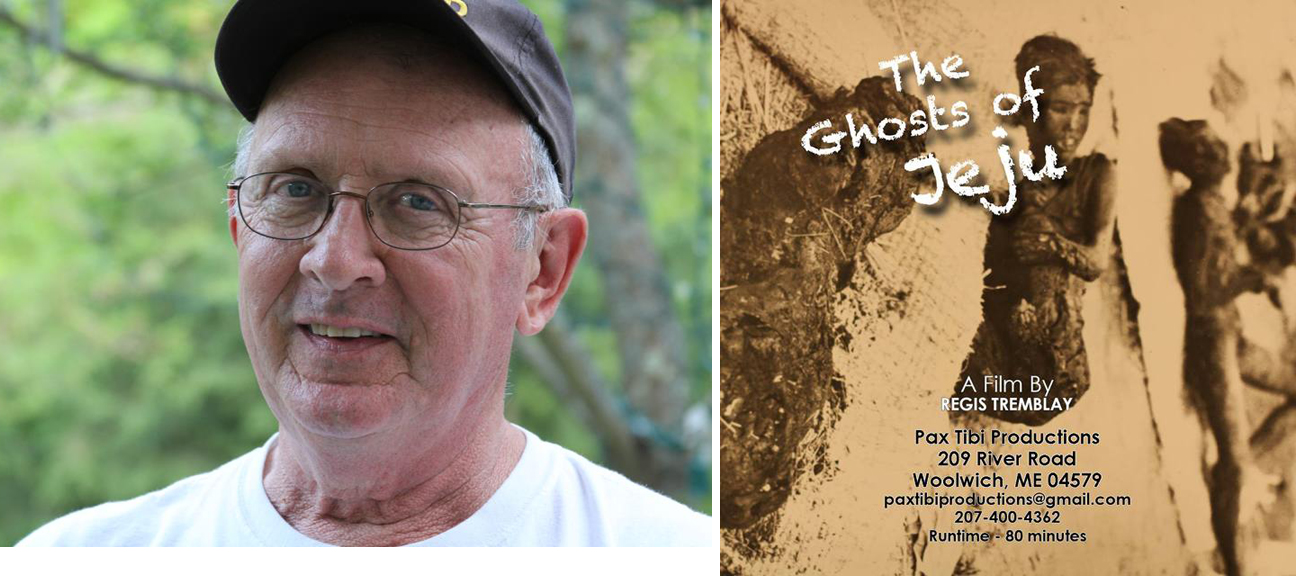 –> Click the link for Korean translation
Tomiyama Masahiro and Okinawan peace activists (Okinawa) 
 Tomiyama Masahiro is the co-chairman of Okinawan-Korean People's Solidarity against US military base. He was denied entry to Korea twice, Apr 6 of 2012 and Sep 5 of 2012, a day before the World Conservation Congress opening ceremony. Several other Japanese peace activists such as Yagi Ryuji and Okinawan musician such as Wumisedo Yutaka were repeatedly not allowed to enter Korea, two times respectively. We also thank Park Jin-hwan for translating the messages into Korean. 
「生命と平和のための江汀大行進」への連帯メッセージ 米軍基地に反対する運動をとおして沖縄と韓国民衆の連帯をめざす会 略称:沖縄・韓国民衆連帯 共同代表:豊見山雅裕(とみやま・まさひろ) 海軍基地建設阻止のために江汀村に結集した闘う仲間の皆さん。沖縄から連帯のメッセージを送ります。 沖縄では、昨年9月の10万人余が結集した県民大会において、日米両政府に対し「世界一危険な普天間基地の閉鎖、辺野古への新基地建設反対、欠陥機オスプレイの配備撤回」を求めるオール沖縄の県民行動を開始しました。日本全体の右翼的雰囲気の中で迎えた7月21日の参議院選挙でも、沖縄は革新側の糸数候補が保守勢力を打ち破り勝利しました。 しかし、参議院選挙に日本全国で大勝した超右翼安倍自民党政権は、8月初旬にも普天間基地に、墜落死亡事故をくりかえすオスプレイ12機の追加配備を進めようとしています。そして、辺野古への新基地建設のための埋立承認を取り付けるため沖縄県(知事)に圧力を強めています。高江のオスプレイパッド建設も再開・強行されています。 民意を踏みにじって沖縄をねじ伏せ、領土問題を煽るナショナリズムの鼓吹から、憲法改悪・国防軍創設へと突き進む安倍政権の危険な暴走を、なんとしても食い止めなければなりません。 国境を越えてアジア・世界の民衆が平和の手を結びあいましょう。獄壁を越えて、こころを一つに合わせましょう。生命と平和のための江汀大行進、人間の鎖行動の大成功を勝ち取りましょう!
Solidarity Message to 2013 Gangjeong Grand Peace March
Okinawan-Korean People's Solidarity against US military base (full name) Okinawan-Korean People's Solidarity  (in short) Co-chairman : Tomiyama Masahiro
Dear comrades who gather in Gangjeong village to stop the construction of Jeju naval base. I send this solodarity message from Okinawa. In Okinawa, on Sep 10 last year, about 100,000 people attended the Okinawa general demonstration and began a pan-Okinawan action to fight for shutdown of the world's most dangerous Futenma US base, to stop the Henoko new base construction and to withdraw the deployment of the flawed Osprey aircraft. As the whole Japanese society is leaning toward right-wing, an Okinawan progressive candidate won the Jul 21 Upper House election as Itokaz was elected as a member of Parliament by beating a conservative candidate. However, the far right-wing Abe's Liberal Democratic Party won a huge nationwide victory in the election. And the government is getting ready to deploy 12 more Osprey aircraft that have caused continuous problems, such as crashing to land and killing people. The new administration is pushing pressure on Okinawa governor to get a permission to reclaim the Henoko sea area to build the military base on it. The construction of an Osprey takeoff and landing base in Takae is resumed and going on despite people's protest. Abe administration ignores the will of people and makes Okinawa succumb to the central government. It incites nationalistic sentiment among general public by bringing territorial disputes, aiming to change the Constitution for the worse with a clear purpose to establish full-scale military forces. We must stop this Abe's dangerous and violent moves. Beyond the border, all people in Asia and across the world, let's come together with peaceful hands. Let's bring our hearts together across the barrier. Let's accomplish the big success of Gangjeong Grand March and human's wall across the fences of Gureombi.
–> Click the link for Korean translation and more resource (Korean translation by Park Jin-Hwan and English translation by Jo Yak Gol)
David Vine (USA)
I wish I could be there with all the brave people of Gangjeong and their Korean and international supporters. Your important struggle against the destruction of the environment and the increased militarization of East Asia is a model for people worldwide who are trying to build a more peaceful and just world. Thank you for all you are doing! In solidarity and hoping to return to Gangjeong soon, David David Vine Assistant Professor Department of Anthropology American University Washington, DC USA
–> Click the link for Korean translation and photo here
Yoshikawa,  Hideki (Japan)
I trust your 2013 Ganjeong Grand March for Life and Peace has started off great. Here is my solidarity message to the marchers and the people of Jeju Island.   May the Ocean praise you for taking the peaceful paths to protect your island May the Ocean provide you with wisdom and plenty May the Ocean calm the troubled world May the Ocean protect you and help you prevail May the Ocean connect Jeju and Okinawa forever in solidarity Hideki  Yoshikawa Citizens' Network for Biodiversity in Okinawa Save the Dugong Campaign Center
–> Click the Korean translation link
Emily Wang (Wang Yu-Hsuan) (Taiwan)
Dear Gangjeong people, This is Emily. I send my congratulations and my big hugs to you for your success on the Peace March and Human Chain. While you were in the march, I am also attending a oceanic peace forum to talk about Jeju base and working for the inter-island solidarity for just peace for our region. The awesome grand march photos were shown in my presentation as well. Peace is the way without boundary, so I believe we are walking together. You are not alone. This is a big solidarity from Taiwan. A solidarity t-shirt will arrive in Gangjeong soon. Good Job!
–> Click the Korean translation link
Women in Freak in Osaka (Japan)
Dear Organizers of huge human chain event,
We are Japanese group called Women in Freak in Osaka.
We would like to join the event in spirit, so we have made solidarity T-shirts for the event. [..]
We are always thinking of you and we never forget you, your brave work, your joyful movement.
 In solidarity,
 Miki  Soto