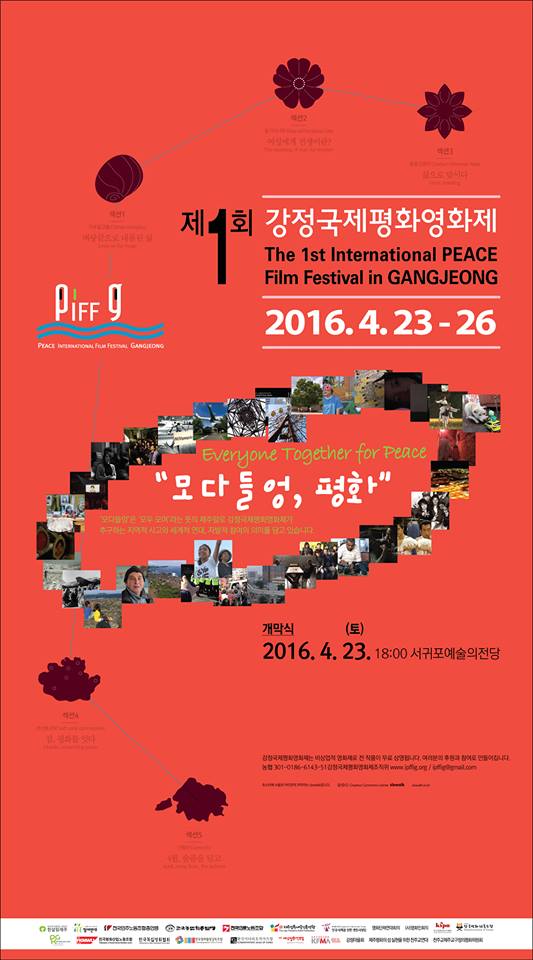 The 1st International Peace Film Festival in Gangjeong (IPFFIG) will be held on April 23rd through April 26th in Gangjeong village hall, Peace Centre and Seogwipo Art Centre, Seogwipo city.
In the wake of the completion of Jeju naval base, we are working on to hold an international peace film festival here in Gangjeong village.
The idea of the film festival is to surround the navy base with the power of culture. Military tension is increasing in the region as the countries are driven by arms race. However, we believe culture is mightier than the sword.
There will be screenings of 34 films from 10 different countries, which include the films dealing with the issues of war bases in Gangjeong and Okinawa. The festival theme is "Everyone Together for Peace". The central values of the festival are peace, environment, life, human rights, and feminism.In order to remain independent while embracing these values, IPFFIG is a non-competitive and non-commercial festival open to participation by all.
The Sections of the film festival are named after endangered species that represent the nature of Gangjeong:
1.Lives on the verge (Clithon retropictus)
2.The meaning of war for women (Rosa wichuraiana Crep.)
3.Lives, resisting (Cladium chinense Nees)
4. Islands, connecting peace (Soft coral communities)
5.April, rising from the sadness(Gureombi).
The International Peace Film Festival in Gangjeong invites films that explore in-depth and progressive interpretations of peace, environment, human rights, feminism, life, workers' movement, immigration, and queer. Our vision is to create a vital space for lively communication with forward-thinking contemporary filmmakers. Also, a series of special programs – the Peace Film School and three sessions of the Peace Forum – will occur throughout the festival, contributing to our vision for fostering the next generation of socially engaged filmmakers.
• You can check more about the film festival here: www.ipffig.org,
https://www.facebook.com/ipffig
( *The source of text and  all images here  come from the 1st International Peace Film Festival in Gangjeong (IPFFIG))