UPDATE: Route guide_2016 Gangjeong Grand March for Life and Peace 'Peace
To join the march, please submit application form, here.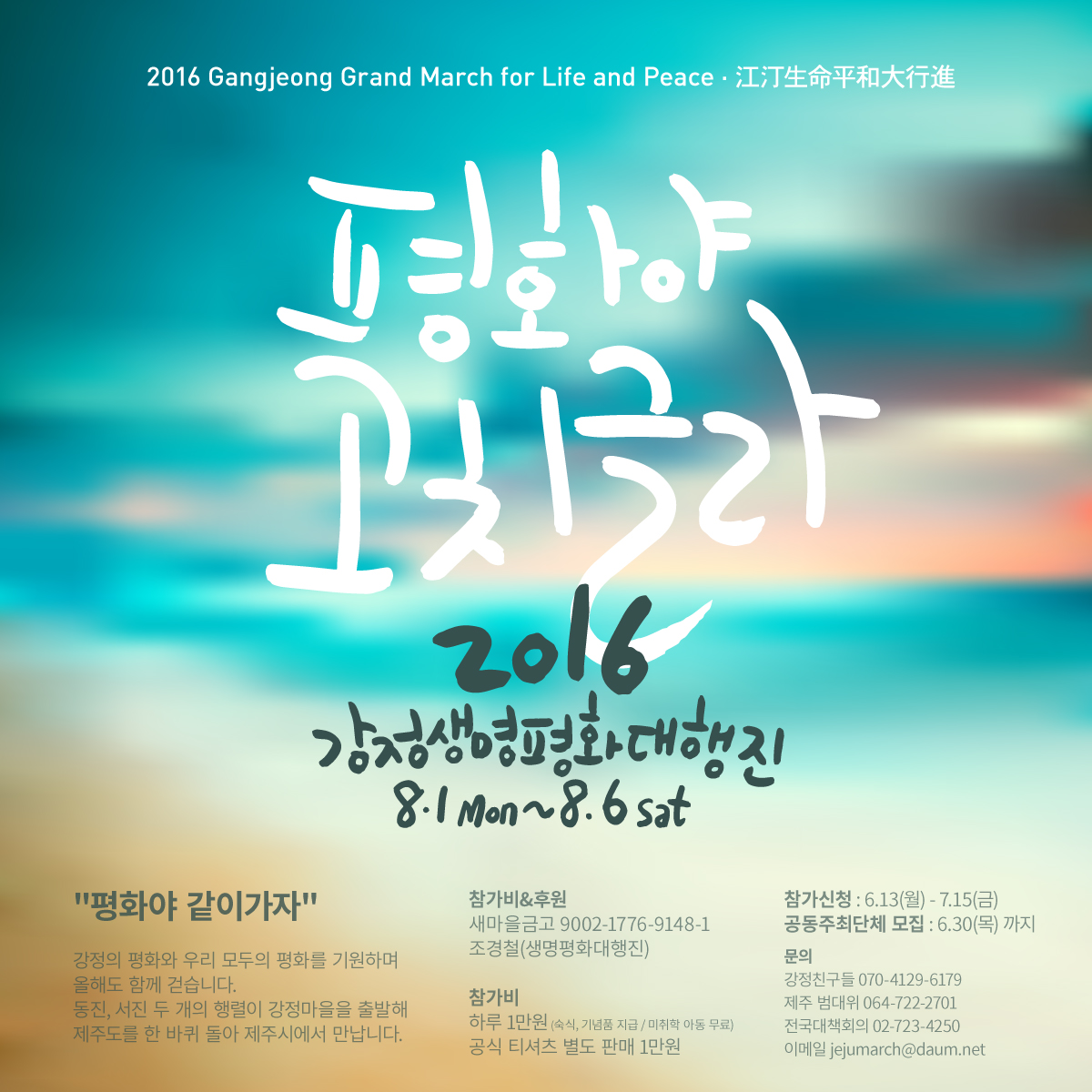 "Hey, peace, let's walk together"
2016 Gangjeong Grand March for Life and Peace
Aug. 1 (Mon.) to Aug. 6 (Sat.)   
The 2016 Gangjeong Grand March for Life and Peace starts with an event on the previous day and is launched in Gangjeong village on Aug. 1. The grand march group is divided in two teams of West coast and East coast. Each of the teams will walk around half of the Island respectively in the east and west coast, enjoying the beauty of Jeju including its olle trails and sea coasts. They will see each other and reunite in Topdong Square, Jeju City on Aug. 6.
With the completion of the Jeju navy base last February, you can see military vessels frequently coming and going in the sea in front of the Gureombi Rock coast now covered with concrete. It has become common that you happen to see soldiers in uniform in the inner roads of the village or in the limousine bus No. 600 which is from the Jeju airport to Gangjeong village.
The navy, as if it had waited for the completion of the base, filed a lawsuit against the people of Gangjeong, demanding so called reimbursement of around 3 million USD allegedly for the delay of construction. Recently, the city of Seogwipo has also sent people an ultimate notice that it would demolish various kinds of facilities, including a protest community restaurant, in the Joongdeok Samgeori (three-way intersection) for the purpose of construction of an entry road to the cruise terminal.
However, nothing can break our will for life and peace. Gangjeong village is preparing to be born again as a village for the value of life and peace beyond the movement opposing to the naval base construction. It is also widening its solidarity with the anti-military base movement around the world. We will never lose unless we give up remembering, gathering, meeting, sharing and having solidarity in Gangjeong village.
We will walk together this year too praying for the peace of Gangjeong and all of us. We would like to have the most beautiful week in our lives with you during the bright days of summer.
☮ Main schedule
July 31 (Sun.)
5pm _ A previous day event for the Gangjeong Grand March for Life and Peace
(In front of the village community hall, Gangjeong village)
Aug. 1 (Tues.)
8:30 am _ Human chain for peace (The main gate of the naval base)
9:00 am _ A press conference upon the start of grand march (The main gate of the naval base)
9:30 am _ Start of the grand march
Aug. 1 (Mon.) to Aug. 6 (Sat.)
March
Aug. 6 (Sat.)
5 pm _ Life Peace Culture festival, 'Peace! Let's Go together' (Topdong Square, City of Jeju)
☮ March course
West coast team
Aug. 1 Gangjeong~Joongmoon~ Andeok (18km)
Aug. 2 Andeok~ Daejeong~Hankyong (22km)
Aug. 3 Hankyong~Geumneung~Hallim (16km)
Aug. 4 Hallim~Gwakji~Aewol (11km, culture festival)
Aug. 5 Aewol~Hagwi~Shinjeju (14km)
Aug. 6 Shinjeju~Topdong Square (7km)
East coast team
Aug. 1 Gangjeong~Downtown of Seogwipo City~Hyodon (18km)
Aug. 2 Hyodon~Weemee~Namwon~Pyoseon (21km)
Aug. 3 Pyoseon~Shinsan~Seongsan (21km)
Aug. 4 Seongsan~Gujwa-Gimnyeong(19km)
Aug. 5 Gimnyeong~Hamdeok~Jocheon (12km, Culture festival)
Aug. 6 Jocheon~Downtown of Jeju City~Topdong Square (16km)
☮Application
-Participation fee: 10,000 KRW a day/ Official t-shirt is sold separately. 10,000 KRW per t-shirt (ex: Total 70,000 KRW for the whole six day march)
_ Application period: June 13 (Mon.) to July 15 (Fri.)
_ Participation fee is free for preschool children
– Accommodation and meals/ souvenirs provided
☮ Participation fee and sponsoring/support
Internationals can pay on site (cash only)
☮ Contact
Email: jejumarch@daum.net, gangjeongintl@gmail.com
For more information, go to savejejunow.org
* All the participants' baggage are carried by vehicles
* Everyone should prepare a personal cup, towel, toiletries, sleeping bag, and blanket
* Details will be sent by email later.
…………………………………………
To join the march, please submit application form, here.