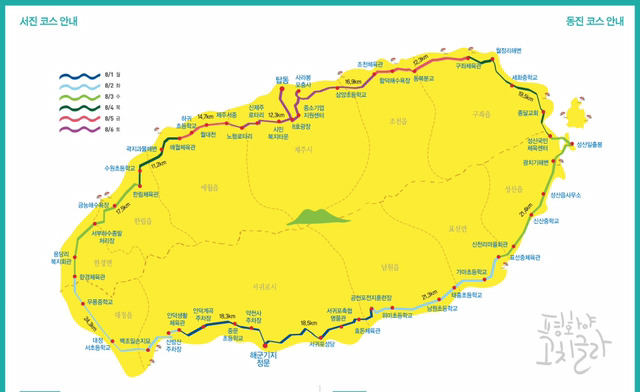 For 2016 Gangjeong Grand March for Life and Peace 'Peace,' go to here.
This is the summary translation from the Korean site, here. Thanks so much, Tom and Nanch'o for translations. 
…………………………………………………………………………..
2016 Gangjeong Grand March for Life and Peace 'Peace, ' East route'
Seogwipo Cathedral
The 1st Annual International Peace Film Festival in Gangjeong (April 24-28, 2016) held its festival opening in this cathedral. In fact, Seogwipo Art Hall had been originally planned as the location for those opening events. However, due to the influence of conservative political bias, Seogwipo City officials suddenly reneged on their agreement to allow the festival to use that public venue, creating a last-minute controversy that not only jeopardized the opening but also for several screenings. It was thanks to the swift response of Bishop Kang Woo-il and others in the Jeju Catholic Diocese that the location was quickly moved, allowing the festival to proceed as planned. An estimated 1,000 people attended the film festival, which was widely praised for its innovative and politically courageous programming.
Wimi
Proposed site for the Jeju Naval Base before the irregular and undemocratic measures that resulted in the change of the base's location to Gangjeong
Sinsan-ri, Onpyeong-ri, Seongsan-eup
Sites related to the ongoing protest movement opposing the construction of a second Jeju airport in Seongsan
Gwangchgi beach, Seongsan
Massacre site where roughly 400 island residents were killed by conservative paramilitary forces, during the suppression of the April 3rd Uprising that began in 1948. This location is associated with both the trauma of civilian massacres and also with its erasure in public memory during subsequent years through censorship and touristic development.
Cheju Haenyeo anti-Japanese movement
Cheju Haenyeo anti-Japanese movement of the early 1930s, which is regarded as an embodiment of the strength and independence of Jeju women, as the haenyeo were the only women in Korea to lead a resistance movement against Japanese domination during the period of colonial occupation (1910-1945)
Hado Migratory Birds Habitat
A shelter for thousands of migratory birds – including the endangered Black-faced spoonbill; this estuary region was designated by the Ministry of Enivornment as an ecological reserve where biodiversity has been undergoing restoration as the habitat for falcons, hawks and even eagles.
Woljeongni Beach
Woljeongni Beach: This is one of Jeju's beautiful beaches, which are famed for aquamarine waters and white sands. However, the charm surrounding such places of natural beauty in Jeju are steadily being lost due to reckless overdevelopment on the island. Although the local economy should be supported, development must be sustainable so as not to risk the natural environment which allows all life to thrive.
Neobunsungi ~ Bukchon
Surrounded by pine trees, this 4.3 massacre site is where government forces massacred Bukchon villagers, after hauling them off to the Bukchon elementary school before their execution. A total of 412 villagers were unjustly killed and forgotten until the tragedy was finally brought to public attention through the historical novel "Aunt Suni," written by Hyun, Ki-young and first published in 1979.
2016 Gangjeong Grand March for Life and Peace 'Peace, ' West route
Gangjeong Stream
A stream to the east of Gangjeong Village is a stream which, unlike Jeju's regular streams, has clear water flowing all year round. 70% of Seogwipo City's drinking water is sourced from this stream. It stretches a total of 16km and includes 7 ponds, 6 bridges and 13 waterfalls, and is surrounded by rugged cliffs and pine trees. It is home to the in other regions rare to see sweetfish and sometimes you can catch a glimpse of flocks of the flying Mandarin duck, natural monument no. 327. It is a place where beautiful natural scenery and clear water come together to provide relief in summer to countless vacationers who seek relief from the heat.
Jungmun Tourist Resort
Sedal-dong, Jungmin-dong and Depo-dong in Seogwipo City were constructed from 1978 according to the Comprehensive Development Plan for Jeju. It spans a total of 3.562 square km and mainly consists of accommodation facilities (tourist hotels, condominiums, etc), business facilities, leisure/sports facilities, tourist gardens, golf courses and the like.
Most businesses in this area were farmlands for the local villagers, but in the 1970s the military government pushed through by development by forcing owners to sell their land at dirt-cheap prices. There is still controversy even today over development which is pushed through with detrimental effect to the environment and landscape.
Hwasun Town Coast
The first place where controversy over the construction of naval base Jeju erupted was in Hwasun in Andeok township. The Korean Navy announced its plan to build a base there in 2002. In response to this, Hwasun residents organized alongside the Hwasun Naval Base Opposition Committee to oppose the Navy's plans. Because of the strong opposition, the Navy deferred its decision.
Cemetery of Unnamed Victims of the Korean War
This cemetery is located in a wide 벌 in Sagye Village, Andeok Township. Where the suppression of the April 3 Uprising came to an end on 20 August 1952 when 132 villagers from across the island were rounded up in the name of preventative detention of impure element and massacred  in nearby Seotal Oreum in Dejeongeup, Songaksan, a former Japanese military munitions dump.
Alddeureu Airfield & Japanese Military Hangars
Located in Moseulpo and used by the military of Japanese occupation and was constructed by the forced labor of Jeju islanders, control tower, anti-aircraft battery, airplane hangars and fortified caves still remain. First constructed at a size of 594,000㎡ in 1935 to launch attacks against the Chinese mainland, it was expanded to 1,320,000㎡ in 1945.
Geumneung  Euteumwon Beach
White sand beach in Geummeung Village, Hallim Town. Even children can enjoy this beach as the water is not deep, and you can see a magnificent view of the sun setting with Biyang Island in the backdrop. So it is a famous place for families and vacationers to visit all year round.
Tamla Offshore Windpark Development Area
Jeju has always been an island of plentiful wind. Of course this has also problems for those working on the sea or farms. These days the wind the made life harder for the people of Jeju is being harnessed as a new source of energy and a lot of capital is being invested in its development. Of course it is also controversial due to the impact it is having on the environment and scenery and so there is opposition to its development from the local people.
Weoldae Stream
Also known as Waedo Stream, this stream flows from Waedo-2-dong located on the northwestern coast of Jeju Island and into the ocean. Surrounded by more than 500-year-old nettle trees and more than 250-year-old pine trees, on moonlight nights you can see the beautiful sight of the sparkle of moonlight on the water.
# A more peaceful way of marching for peace! Shall we try to stick to this? #
Don't let people know that you have slept in gymnasiums!
– After you wake, we hope everyone will clean up their personal belongings, the floor,  and our sleeping areas together.
Find a tap! Refill your water bottle!
– Make sure you don't throw away your water bottle as we'll distribute one bottle per person each day! Make sure you fill up your water bottle. Jeju tap water is fine to drink.
Please make sure not to have left-over food on your plate
– In order not to let any food go to waste, take only as much as you can eat! (If any food is left over, we encourage you to help eat it up.)
The safety team is not a scary police line, but our lifeline
– So that there are no accidents during the march, please follow the leadership of the safety team. (If an accident occurs, it could not only be a major problem but could cause a lot of pain :'-()
NO Smoking! Especially NO intoxicated dancing and singing!
– The accommodation and rest areas we'll be staying at are mostly schools, village gymnasiums and the like.
– Please be careful not to damage any public facilities and we ask you not to smoke or consume alcohol inside these facilities.
The medical support team is closer than your lover or your friend at only one-minute away
– A heat wave has been forecast for the period of the march. The medical support team will always be by your side.