The following petitions were submitted to the court to call for Song Kang Ho and Ryu Bok Hee to not be imprisoned during their trial regarding their visit to the remaining part of Gureombi Rock (inside Jeju Navy Base) on March 7, 2020, the 8th anniversary since the blasting of Gureombi Rock in 2012.
The first petition was submitted to the judge at Jeju District Court on March 30, 2020. The court held proceedings to review the arrest warrants for Gangjeong village peace activists Song Kang Ho and Ryu Bok Hee. In a short time about 4,700 people signed this petition on their behalf. Ryu Bok Hee was released later on the 30th, but Song Kang Ho was held in custody at the Jeju Dongbu Police Station.
Greetings, your honor.
Together with Song Kang Ho and Ryu Bok Hee, we question the legitimacy of the Jeju Navy Base, established through violence at Gangjeong Village on the Peace Island of Jeju. We are people standing in solidarity and working for peace, as Jeju, the Korean peninsula, and even East Asia and the world are confronted with the problem of military bases.
Already the procedures that brought the Jeju Navy Base to Gangjeong Village have raised much social inquiry. The state has a responsibility to be just and democratic above all, but it used methods that could not be just, then threatened citizens and violently made the military base by force. For that reason, President Moon Jae-in visited Gangjeong Village himself during the Fleet Review in 2018 and apologized to the Gangjeong villagers. According to the 2019 report on the investigations into the Jeju Navy Base incident, government bodies and the military were directly involved in dividing Gangjeong and committing serious human rights violations. A Jeju poet who witnessed the process even said "Gangjeong is 4.3" [referring to the state violence carried out in Jeju in 1948 and following]. We are citizens who have witnessed and experienced this kind of violence for as many as ten or more years. Song Kang Ho and Ryu Bok Hee, they are also people who keep raising questions so that those misfortunes are not repeated. They are people who feel the pain of everything that is mercilessly destroyed.
The particulars are as follows:
1. On February 14, at about 10 AM, Song Kang Ho and Ryu Bok Hee inquired at the navy civil affairs office about how to visit the remaining part of Gureombi rock inside the navy base and submitted their first application. An official called them in response and reported that it was rejected.
2. On March 7, the anniversary of Gureombi's blasting, at 9 AM, they visited the navy civil affairs office again and submitted another visit application. They were informed that for the reason of safety they could not enter. They expressed their yearning to see Gureombi, and requested cooperation from the military. They gave their contact information and asked for a reply by 10 am. They got no reply, and at 12:00 they submitted another application form, and waited for permission.
3. No response came. Song Kang Ho and Ryu Bok Hee went to Metpuri. Metpuri is the public sea-side area at the far eastern side of Gangjeong which used to be connected to Gureombi. Every year on Jan. 1, a village ceremony is held at an altar at Metpuri during the first moments of the year; the village treasures it as a holy place. People's longings have been assuaged somewhat since at least this altar remains.
4. Song Kang Ho cut the wire fence in the rain and entered to see Gureombi, which he longed for in his dreams, and Ryu Bok Hee followed after him. They went in to the one part of Gureombi that remains and sat in silent prayer, and at about 3:40 they went towards the main gate and were seen by a soldier. Police came quickly. 50 meters from the entrance to the base, they were told "You entered without permission into a Military Protection Area and you cannot leave now" so they stopped. They followed the order and stood for about 30 minutes. Song Kang Ho held up a 1 meter by 50 cm yellow banner that he always carries with him, which reads "Peace Island Without Military Bases." Ryu Bok Hee held up a banner reading "Gureombi, did you sleep well this spring?"
5. After being stuck like that for tens of minutes, at around 5:20, one Gangjeong villager entered the main gate and asked "Can I escort these people out?" and one soldier replied, "Escort them out quickly." Following the exit directions of the guards, they walked out the main gate.
"Gureombi, did you sleep well this spring?" was the text on the banner held by Ryu Bok Hee.
It was made with friends for the 8th anniversary of the blasting of Gureombi. The state says that since the construction of the Navy Base was completed, everything is finished. Conflict arose from the state and the military actively dividing the village, but it sounds like all the social issues have of course been just patched up. Rather, I think we must be reminded of the people, the environment, and especially the values of democracy and peace which have been further harmed. Thus we personify Gureombi as a child taking a nap, and we ask Gureombi to quickly rise up. That's why the banner says "Gureombi, did you sleep well this spring?"
"Peace Island Without Military Bases" was on the banner held by Song Kang Ho.
In 2005, Jeju was declared "Island of World Peace." "Demilitarization" was an important precondition in the planning stages for the Peace Island. October 10, 2003 the Jeju University Peace Research Center presentation 'Tasks for designating and promoting Jeju as a World Peace Island' evaluated the case of citizens' opposition against the plans to make a navy base in Hwasun harbor as a will to make Jeju a demilitarized peace island. They said that Jeju "could be an arena of competition between two powers, but instead it could be a buffer between two powers, and could become a neutral reconciliation zone." …
As Jeju began to promote the navy base construction, this road-map for making Jeju a demilitarized peace island began to collapse. …
However, Gangjeong Village's anti-navy base movement was a nonviolent peace movement for the demilitarization of the peace island Jeju. Song Kang Ho and Ryu Bok Hee have endlessly insisted that Jeju must be a demilitarized peace island. 'Demilitarized Peace Island!' This is why we remain in Gangjeong and continue the struggle for peace in the 5th year since the opening of the base, and that's why Song Kang Ho goes around carrying this banner.
Respectfully, your honor!
In June 1999, three women, Angie Zelter, Ulla Roder, and Ellen Moxley entered Faslane navy base in Scotland and destroyed computer and other special equipment for Trident nuclear submarines in the Maytime floating laboratory. They hung up photos of Hiroshima and Nagasaki destroyed by nuclear bombs and a banner reading "Stop the nuclear testing of death!" That time, as well, the police and military arrived three and a half hours later. The three women who destroyed nuclear submarine materials argued that they were not guilty.
Trident is a 48 million ton submarine launched nuclear missile. Just one Trident missile has 8 times the destructive capacity of the 'little boy' bomb that was dropped on Hiroshima in 1945 killing 150,000 people.
On October 20, 1999 at Greenock Sheriff Court, Judge Margaret Gimblett declared these three people not guilty. She ruled that because their crime of destroying the nuclear submarine system was an act to prevent the even greater crime against humanity posed by the nuclear submarines, it could not be considered illegal.
Respectfully, your honor!
As you well know, President Moon Jae-in met Gangjeong villagers on October 11, 2018 and bowed his head in apology for the long conflict over the navy base problem that embroiled Gangjeong. In that place, he said "The state must protect procedural justice and democratic justice, but it failed. I express deep regrets and offer words of consolation," he said in apology.
When a national policy undertaking overwhelms the citizens, and when the state furthermore violates its own values with acts of violence, and if through such a process a military installation or military base is completed and citizens do not raise these issues, then we would not have been able to bring forth even this much peace. This much democracy would not have been possible either. The judgement of the military is that entering into a military protection area is a serious problem for national security, but to the contrary, this kind of earnest desire and awakening for peace are just the very kind of first steps that we all, including the military, must take to build momentum for true peace.
Song Kang Ho and Ryu Bok Hee's bodies may be detained, but that will not detain the calls of the citizens' conscience and free will for true peace and just procedures. Please stop the arrest of Song Kang Ho and Ryu Bok Hee. Please show leniency, your honor.
March 29, 2020
People supporting Song Kang Ho and Ryu Bok Hee
(written by Oum Mun Hee, referencing Song Kang Ho, Sahaja, the founding documents of the People Making Jeju a Demilitarized Peace Island, Joyakgol (hotpinkdolphins), and attorney Baek Shin-ok, excerpted and translated by Curry, with help from Choi Sung-hee)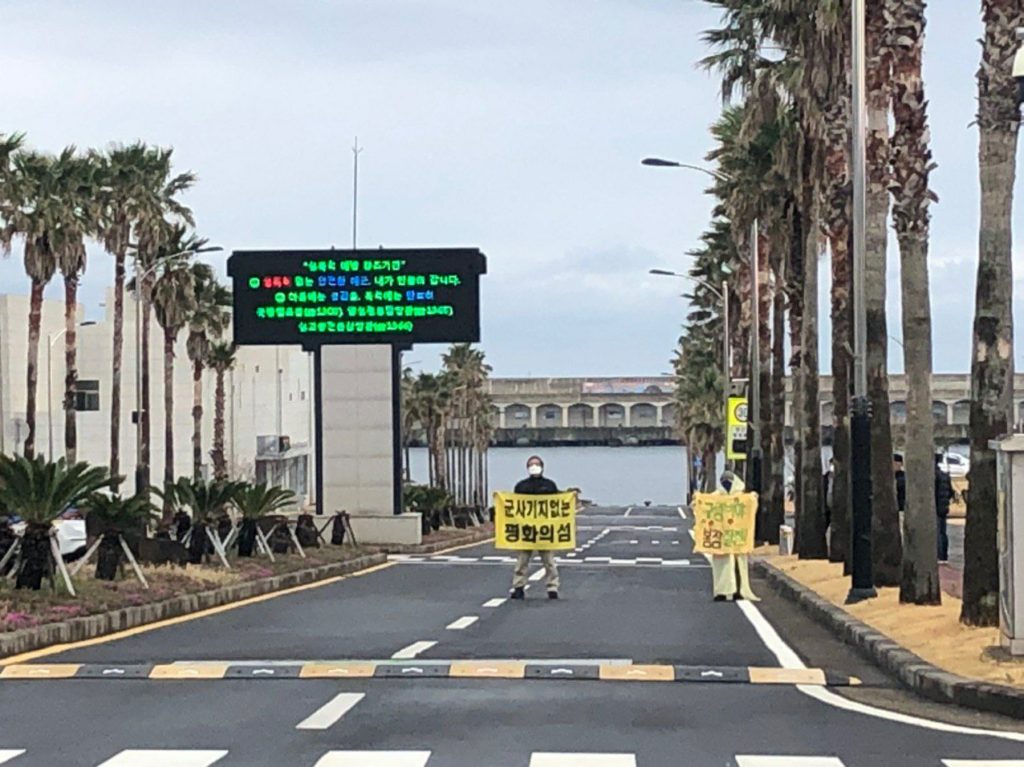 The second petition was submitted to the judge on April 3, 2020. The Korean petition got 2,100 signatures and the international petition got 348 signatures. Despite this outpouring of support, the court maintained the arrest warrant and Song Kang-Ho was moved to Jeju Prison on that day.

It was the 72nd year since the April 3rd Uprising and Massacre (March 1, 1947 to Sept. 21, 1954), and it was also his birthday (according to the lunar calendar).
Korean criminal law advocates investigation without detention and limits detention to the following cases: 1) There is considerable reason to suspect that a crime has been committed 2) Absence of a fixed residence, or 3) There is concern that the suspect will destroy evidence or flee.
In this case, the purpose of detention is to ensure the accused's presence in the trial proceedings, so in a strict sense there is no correlation between the detention and the punishment. The principle of investigation without detention is the broad principle of criminal law in the Republic of Korea. According to the constitution, investigation under detention limits fundamental rights, so in principle, excess is forbidden and the scope is restricted to the minimum of what is necessary for the purpose of investigation.
Accordingly. the detention of Gangjeong peace activist Song Kang Ho is unreasonable for the following reasons:
Why his detention is unfair, reason one!
His residence is clear and there is no worry that he will flee.
1) For over 10 years (a long time) he has constantly resided in Gangjeong except for brief absence from the village for overseas emergency relief and to care for his father.
2) He has complied diligently with investigations by police and prosecutors during previous trials for nonviolent direct actions.
3) He is currently facilitating 2 courses at the World Peace University Gangjeong Campus as the founder and doctor of theology. It is appropriate to consider this as a situation in which he cannot leave from Jeju.
Why his detention is unfair, reason two!
He has no reason to destroy evidence.
1) He did not invite public participation in this action, and since before now his non-violent direct actions have been conducted independently. Thus, there is not any reason to destroy evidence.
2) Until now he has given a full account of his actions in the course of investigations.
Why his detention is unfair, reason three!
Song Kang Ho is a trustworthy person.
1) Within 24 hours of notification that the court would examine whether to approve an arrest warrant, with one accord, about 4,700 citizens signed a petition to calling to stop the arrest of Song Kang Ho. This is the result of the trust and authenticity that he has built up over many years.
2) He is a person with a good influence on society. For the last 25 years he has been engaged in peace activities in conflict areas around the world. For ten years he held peace camps for reconciliation with young people from East Timor, Indonesia and many other countries, following the independence of East Timor from Indonesia. With local young adults he ran a peace center for refugees of the conflict between India and Pakistan in Kashmir and removed landmines and rebuilt a girls' school in Afghanistan. He taught peace to children in an emergency camp for people displaced by the catastrophic earthquake in Haiti. He conducted emergency relief in Aceh, Indonesia following the tsunami and 35 years of war for independence, and recently he has worked to help refugees in the Rohingya refugee camps.
3) Moreover, he is the grandfather of two grandchildren. His children followed their father's example and are working for the public good as a doctor and a nurse. He hopes soon to celebrate his birthday with his grandchildren and family. His grandchildren are looking forward to seeing their grandfather.
For these reasons, we bring to your attention the problem of the detention of Gangjeong peace activist Song Kang Ho, and request that you reconsider whether is is really appropriate to detain him.
The principle of investigation without detention could be considered the result of reflection on the infringement of human rights caused by the custom of detention during trial for the convenience of investigation.
As we write this petition, it is approaching the 72nd anniversary of the "Jeju 4.3" which still doesn't have a properly decided name. As Jeju remembers the suffering of 4.3 and calls for Jeju to be reborn as an island of peace and human rights, please return to Song Kang Ho, who is dedicated to this very vision of a "Peace Island", his right to be tried without detention. We request a wise ruling by the court.
See more at: www.nukeresister.org/2020/03/30/activists-charged-jailed-after-praying-for-peace-inside-naval-base-on-jeju-island-south-korea/ and at "No Naval Base on Jeju" Facebook Group